Captain Crunch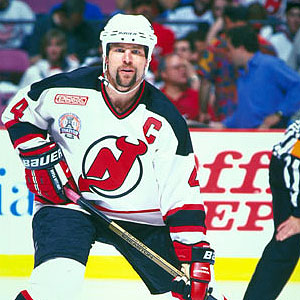 I had the privilege of watching "Captain Crunch" for over a decade and a half. In my entire life of watching hockey; I have never seen anyone hit as hard as Scott Stevens. He was a legend of destruction on skates. Could change the outcome of a game by staging some of the most devastating hits ever seen in The NHL Play-offs (check out the hits section).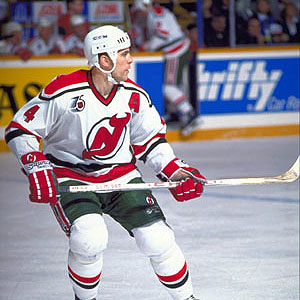 Devils' Stevens announces retirement
Scott Stevens
Associated Press
9/6/2005 7:14:14 PM

EAST RUTHERFORD, N.J. (AP) - New Jersey Devils defenceman Scott Stevens announced his retirement after more than two decades in the NHL on Tuesday, saying a year off showed him that he could live without hockey.
"I think the game is more mental than physical. You have to be in tremendous shape, but you have to want to do it in your head," the 41-year-old player said. "At this point in my career I didn't think I could put the mental parts there every day, and that's a big part of playing this game."
General manager Lou Lamoriello said Stevens, a 13-time all-star who won three Stanley Cups with the Devils and played more NHL games than any other defenceman during his 22 seasons, has "been an integral part of all the success we've had."
"He's been a leader on and off the ice as a hockey player and a person. He feels he's accomplished a lot of things and now wants to devote a lot of time to his family," Lamoriello said.
He added that Stevens, the Conn Smythe Trophy winner in 2000 as the most valuable player in the Stanley Cup playoffs, will stay with the organization in some capacity. Stevens said he would consider helping out new Devils coach Larry Robinson if asked.

Stevens, an unrestricted free agent, missed the final 44 games of the most recent NHL season, 2003-04, after sustaining a head injury against Pittsburgh on Jan. 7, 2004. He said Tuesday he is in good health and that the risk of another injury was not a major factor in his decision.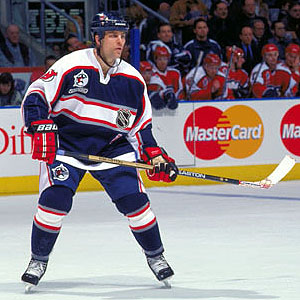 Always known for his rugged playing style, the Devils' captain said during last season's lockout that he expected to return when the labour dispute was settled. But he said Tuesday that the time away from hockey and the opportunity it gave him to spend more time with his wife and three children wound up swaying him. "There's no question that gave me a taste of what it would be like to retire," he said. "It was enjoyable. I had a chance to do things I haven't been able to do in 22 years. It showed me I could live without hockey, and that definitely helped in the transition."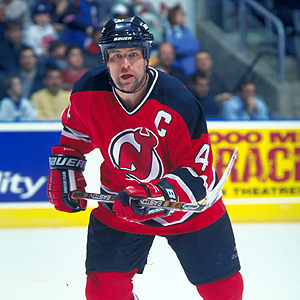 Stevens said he wanted to make the announcement before training camp opened to avoid being a distraction. The Devils begin camp this week and open their regular season Oct. 5.
"I guess I feel a little relieved," he said. "I've kind of been dragging my feet on this. Deep down you try to change your mind, but it was time to let everyone know, to keep the questions away and let the Devils move on. "I've done a lot in my career. It's not like I'm chasing a Stanley Cup. I've been fortunate to have done that, and I know what it takes. If I was a player who hadn't won a Stanley Cup, it might be a little different."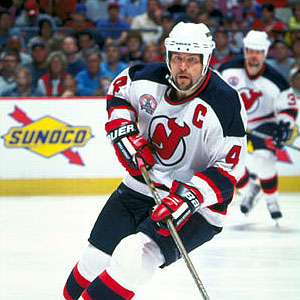 Stevens' retirement and the departure of Scott Niedermayer to Anaheim as a free agent creates a huge void in the team's defensive corps.
"Obviously, it's a shock right now to hear," teammate Scott Gomez said. "You knew that day would come. We all thought Scotty would be back.
"Right now I'm a little bit shocked because he announced something, but at the same time he didn't play the second half of the year."
Pointing to the off-season acquisitions of Vladimir Malakhov and Dan McGillis, Lamoriello said the Devils' defence "is better than it was last year," referring to the 2003-04 season.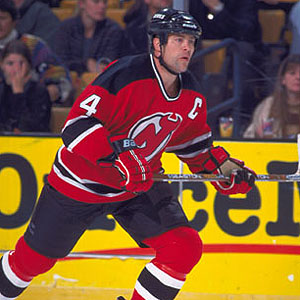 The 36-year-old Malakhov won a Stanley Cup with the Devils in 2000 before playing for the New York Rangers and Philadelphia, and the 33-year-old McGillis has played more than 600 NHL games with Edmonton, Philadelphia, San Jose and Boston.
The Devils also will start the regular season without winger Patrik Elias, who contracted hepatitis A in the spring when he was playing in eastern Europe during the NHL lockout. Lamoriello said Tuesday that Elias is able to do conditioning work but is not yet skating and would not be ready to play by the Devils' first game on Oct. 5 against Pittsburgh.
"He's progressing. It's going to take time," Lamoriello said.
Stevens had 196 goals, 712 assists and 2,785 penalty minutes in 1,635 regular-season games with Washington, St. Louis and New Jersey. He had 26 goals and 92 assists in 233 playoff games.

The Greatest Captain Ever!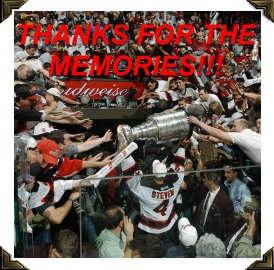 Awards:



NHL All-Rookie Team (1983)

NHL First All-Star Team (1988, 1994)

NHL Second All-Star Team (1992, 1997, 2001)

Alka-Seltzer Plus Award (1994)

Conn Smythe Trophy (2000)

Played in NHL All-Star Game (1985, 1989, 1991, 1992, 1993, 1994, 1996, 1997, 1998, 1999, 2000, 2001, 2003)

Career:

Signed as a free agent by St. Louis, July 16, 1990. Transferred to New Jersey from St. Louis as compensation for St. Louis' signing of free agent Brendan Shanahan, September 3, 1991.
Missed majority of 2003-04 season recovering from head injury suffered in game vs. Pittsburgh, January 7, 2004.